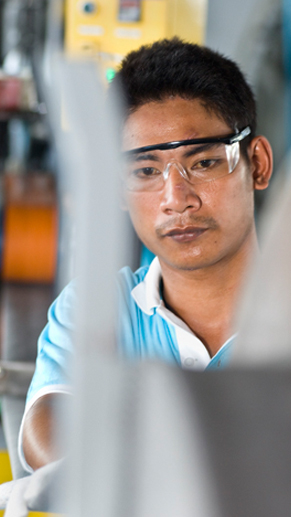 Geoplast Co. Ltd. has been manufacturing Prefabricated Vertical Drain (PVD) since 1993 in Rayong Province, Thailand. The total capacity of the factory is 30,000,000 meters per year dived over three production lines. The company has the latest in terms of production equipment at its disposal ensuring efficient manufacturing according to the highest standards.
The Prefabricated Vertical Drains (PVD), is marketed by CeTeau under the CeTeau-Drain brand.
CeTeau-Drain is designed to meet all criteria which are important for making successful and effective consolidation of compressible soils. The synthetic nature of the product makes it suitable for use in the ground where high levels of durability are required. CeTeau-Drains are manufactured from virgin polypropylene. This material does not contain any additional chemicals that can pollute the soil. The filter jacket is made from specially selected materials that ensure high tensile strength in combination with a low elongation, so that deformation of the drain at high lateral pressure is kept to a minimum.
Click to enlarge